Located in a beautiful natural enclave in the north of Ibiza, Can Marçà is an impressive cave that's over 100,000 years old and was historically used by pirates. 
This cave was historically discovered by groups of smugglers who used it to hide their contraband and you can still see the markings they made on the walls to guide their way in the dark. Since the 1980s the cave has become one of the island's major tourist attractions.
The visit
One of the most important parts of the visit takes place before actually reaching the interior of the cave. The views from the mouth of the cave over the Mediterranean sea are absolutely stunning.
Once inside, during the 40-minute walk through the cave, you'll enjoy the striking natural scenery shaped at the hands of nature over the centuries. Stalactites and stalagmites create sharp ornaments that grew thanks to the water that once flowed through the cave, although today it's dry.
Is it worth the visit?
For those who have visited other caves, Can Marçà may not be too interesting, but for those who have never seen one it can be quite striking.
On the downside, the cave contains some man-made elements and the guided tour is conducted in several languages simultaneously. As a plus, the views from the cliff outside of the caves are a major highlight.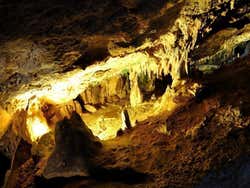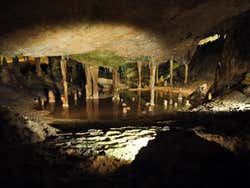 Schedule
1st May to 31st October: 10:30 am - 1:30 pm and 2:30 pm - 8 pm.
Tours every 30 minutes.
1st November to 30th April: 11 am - 5:30 pm.
Tours every 45 minutes.
Price
Adults: € 11 (US$ 11.80)
Children between 4 and 12 years old: € 7 (US$ 7.50)