Get clued up on where to go in the world's clubbing capital!
Kicking off the night
As clubs in Ibiza don't start to get busy until around 1 or 2 o'clock in the morning, many people head to the pre-parties offered at many of the island's famous bars. Here are some of the best places to kick off the night:
Port of Ibiza: The port of Ibiza is the most glamorous area of the island to dine and start the night. On the terraces of the main streets, you'll find drinks and cocktails starting at the moderate price of € 5 (

US$

5.40) per drink, since most bars offer 2X1 (that is to say, 2 drinks and 2 shots between € 10 (

US$

10.80) and € 15 (

US$

16.20)). After 12 o'clock at night, the famous parades of dancers from the different clubs begin.
Playa d'en Bossa: Day or night, there's always a party at the beach. The nightclub Bora Bora and the nearby bars are the meeting point. It's common to see people on the beach drinking and having picnics, people tend to dress informally and might be a bit too far gone.
San Antonio: Ibiza's most famous party resort, San Antonio is famous for its sunset cafes that are located along its iconic sunset strip.
Clubs
Just as we have favorite nightlife areas, we also have favorite nightclubs, here are some of our favorites: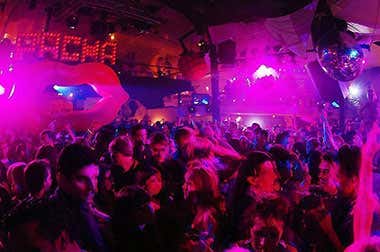 Founded in 1973, Pacha is one of the oldest clubs in Ibiza and has spread all over the world. Find out all you need to know.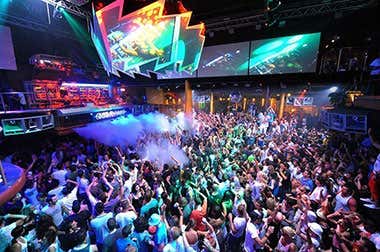 Voted the best club in the world on numerous occasions, Amnesia is an unmissable club for Ibiza's keen party-goers.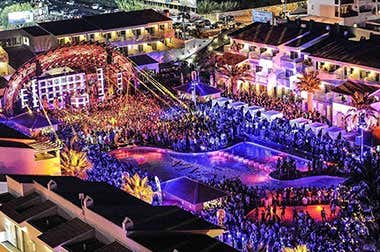 Opened in 2011, the Ushuaia Beach Hotel's club has revolutionised Ibiza and created a new hotel-club concept.
Other less important clubs are Eden, DC-10, and Sankeys.
Where to buy tickets?
If you want to save on the tickets for clubs in Ibiza, these are the best ways to do it:
Buy them in bars and stores: Except for the most important parties (such as those of David Guetta), there is usually no problem buying tickets around the port of Ibiza, in Playa d'en Bossa, or in San Antonio.
Get a wristband: Many times, starting at 2 pm, the dancers from different clubs start going around various beaches selling discount wristbands for the different parties each day. The beaches they usually go to are Las Salinas and Playa d'en Bossa.